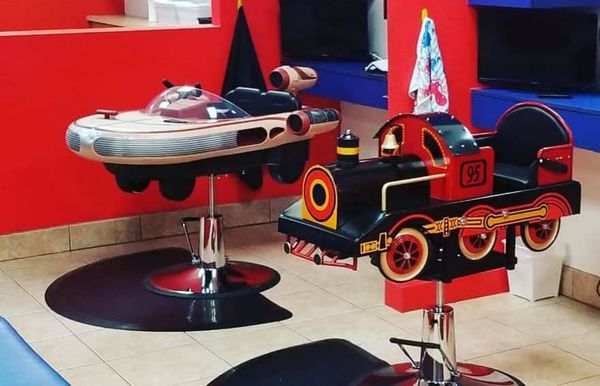 Little Chops is a haircut salon that specializes in cuts for kids of all ages, adults, and accommodates hair cuts for children with sensitivities and disabilities.
Our team ensures families have a great haircut experience. We understand that it can be stressful to bring your toddler in for a well-needed trim and have them sit still. Our stylists also know how difficult it can be for a kid with a sensitivity to sound or touch to get a haircut. The Little Chops team has experience with newborns, toddlers, and specialize in cuts for kids with special needs. We're prepared for anything with games, videos, and more so you and your child can feel comfortable during your next hair appointment. We even have a race car chair, police car chair, or an airplane chair to choose from to make the appointment extra fun for everyone!
This is an opportunity for you and your kids to feel comfortable in a new space. We focus on your family first and make sure everyone has a wonderful time when you come to see us at Little Chops. We have more than 20 years of experience and a dedication to quality cuts at an affordable price for kids and adults alike. Schedule your next appointment with us today!
Vanessa Munoz, Owner